"Modern Builders…Continuing To Be A Leader In Midwest Construction."
~ Excellence in construction depends on four basic ingredients: technical know-how, skilled craftsmen, solid experience and the support system of an efficient, cost-competitive organization. Modern Builders has it all, with other plus factors as well.

Modern Builders:
~ Complete office support and state-of-the-art integrated computer network to schedule and track projects.
~ Employs skilled craftsmen from all general construction trades.
Employs experienced Project Managers and Superintendents.
Pays exceedingly close attention to every detail.
~ Maintains and nurtures long-standing working relationships with area subcontractors.
Credits two-thirds of the current business from repeat clients.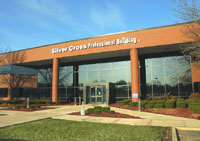 Silver Cross Professional Building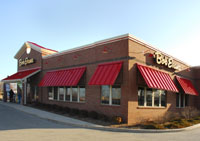 Bob Evans Restaurant in Joliet
~ Some of those repeat projects include schools, churches, power plants, sewage treatment plants, industrial facilities, commercial and retail buildings, nursing homes, hospitals, municipal and governmental buildings, jails and correctional facilities.

~ For over fifty years Modern Builders has been proud to be a recognized builder in the greater Joliet area. Our projects, large and small, dot the area landscape. Our clients rely on MBIC to provide the highest standards of honesty, quality, and dependability.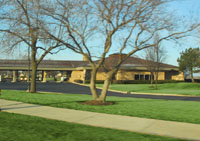 Harris Bank on Essington Road
~ Modern Builders' versatility is shown in the First National Bank's parking facility. This project incorporated the recommendations called for in the City Center Development Plan. It preserved and utilized much of the terra-cotta facade from the former store fronts that were demolished at the site. This project was designated by the City Center Partnership with an "Award of Excellence."
Can we add your company to our growing list of satisfied customers?